Catalog of Programs & Courses from Oracle of the Heart: by Bodie McCoy
Interested in working with a program loaded with meditative exercises of a full course on Merkabah Activation? Below are a few Programs & Courses from Oracle of the Heart that are available individually. You can always Join Us as a member to have all of them, and much more, all included as a Full Access Member.
---
For those interested in the Mystical Aspects of the Lord's Prayer the following programs provide ample information and meditation links to experience it personally.
The Lord's Prayer is A Perfect Thought
This bite sized program called "The Lord's Prayer is A Perfect Thought" offers unique opportunities to experience yourself differently on a personal level. Each meditative exercise assists the heart and mind to unite in the spirit of cooperation to help fulfill your highest purpose. Experience living from the loving awareness of your soul, embodying the "Grail of your Holiness".  $22.00

This program is a stand alone as are the others but this one is also a prefect lead into the Holy Grail Awakenings Programs Part 1 and Part 2

Holy Grail Awakenings Part 1 of 2
$39.95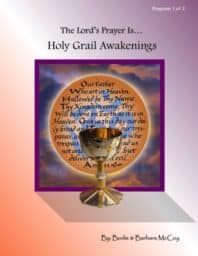 What are Holy Grail Awakenings? Each is a mystical inner journey full of personal insights and creative opportunities to evolve and awaken to who you truly are. Each is an ascending journey though 8 levels of your inner awareness into the Seat of the Soul.
You will experience how the 8 attunements of The Lords Prayer correspond with our 8 chakra energy centers and each chakra is defined by 4 human elements. These 32 human elements are further defined by 4 perceptions of consciousness producing very specific perspectives that are personally attuned opportunities for awakening to perceive your own unique Highest Good & See Yourself Loving
Holy Grail Awakenings Part 2 of 2:
$79.95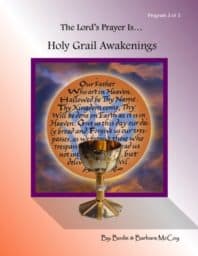 This program is a far more extensive spectrum of journeying through the inner realms of your unique reality. It also includes a link that will allow you to work with updating the elements of this program for the rest of your life if you are a Full Access Member. If you are not a member the link will take you to a page that also give you the option to Join Us. With this workbook you will always have available the tools to help you discover that which is for the Highest Good for you and all concerned.

---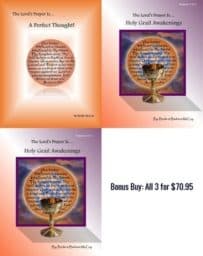 BONUS BUY: A Perfect Thought & Holy Grail Awakenings Part 1 and 2


1/2 off Purchase of All 3 /  Total Cost Just $70.95


[Regular price for all 3 $141.90]

A perfect package for personal growth and access to an array of spiritually uplifting tools. Integrate and use these to enhance your existing daily practice or to use as your daily practice.

---
---
Merkabah Activation: Complete 8 Course Series: $199.60  
 Limited Time Offer: 50% OFF  – Use Discount Code  50PERCENT  at checkout to get the full package for just $99.80
A powerful interpretation and practical application of the importance of consciously working with the elements of your own consciousness. Knowing the sacred geometry within creates balance, harmony and peace in your life. Everything we do, mentally, emotionally, and physically has an effect spiritually. Being aligned with what is for the Highest Good aligns you with your unique creative potential and fulfillment. Each level of this series offers insight and exercises. Hence empowering you to live a life with passion, focus and caring, and all while releasing karmic patterns!

---
The Lord's Prayer is About Us: All of Humanity / $59.95
This workbook is an extensive look into The Lord's Prayer and what we have discovered over nearly 40 years of research and dedication to knowing its magical potential and its mystical elements and how they relate to each one of us! It is a geometrically perfect structure that aligns with our human energy chakra centers. Each of its phrases helps bring us into balance activating our merkaba light body or energy field.
This one Program shares vital insights about how this prayer has embedded within it everything one needs to live a full and satisfying life rich with gratitude, joy, peace, and loving. It contains links to several power packed audio classes,  6 related video clips, and 3 YouTube videos and our new audio meditations working with The Lord's Prayer.
---
Back to STORE